April 23, 2011
Easter Week End
Since we were busy with Good Friday Services and then a family dinner last night, Friday Pieday this week has been rescheduled for tomorrow.
On the night before Easter in 1989, I woke up with my baby, who had been sleeping on my chest, still, not breathing, and blue. God performed another Easter Miracle that night, and once again gave him life! Justin we are so blessed and thankful to have you and your beautiful family in our lives! We love you!
Posted by Angi at 10:19 PM
April 15, 2011
Friday PieDay Week 3 - Pumpkin Pie
This week, Khi treated us to Benny's and my favorite Pumpkin Pie! Some families only eat this delectable dessert for Holiday Celebrations. We believe Pumpkin Pie is a celebration!
We use the traditional Libby's recipe that I grew up eating.
Ingredients:
* 3/4 cup granulated sugar
* 1/2 teaspoon salt
* 1 teaspoon ground cinnamon
* 1/2 teaspoon ground ginger
* 1/4 teaspoon ground cloves
* 2 large eggs
* 1 can Libby's solid pack pumpkin
* 1 can Evaporated Milk
* 1 unbaked 9-inch deep dish pie pastry
* whipped cream (optional to some)
Directions:
* Preheat oven to 425 degrees Fahrenheit.
* Mix sugar, salt, cinnamon, ginger, and cloves in small bowl.
* Beat eggs in large bowl.
* Stir in pumpkin and sugar-spice mixture.
* Gradually stir in evaporated milk.
* Pour mixture into pie shell.
* Bake at 425 degrees Fahrenheit for 15 minutes.
* Reduce temperature to 350 degrees Fahrenheit.
* Bake for 40 to 50 minutes or until knife inserted near center comes
out clean
* Cool on wire rack for 2 hours.
* Enjoy!
Posted by Angi at 11:40 PM
April 08, 2011
Friday PieDay Week 2 - Lemon Meringue
The pie Khi has chosen for this week is Lemon Meringue. Though a favorite of our family, Lemon Meringue is quite a challenge for a second time pie chef!
With very little adjusting, the recipe we're using comes from WikiBooks Cookbook.
Ingredients
Pie filling
* 1½ cups cold water
* 1 cup white granulated sugar
* 2 tablespoons all purpose flour
* 3 tablespoons cornstarch
* ¼ teaspoon salt
* ½ cup lemon juice
* 2 tablespoons butter
* 4 egg yolks, beaten
Meringue
* 4 egg whites
* ¼ tsp cream of tartar
* 6 tablespoons white granulated sugar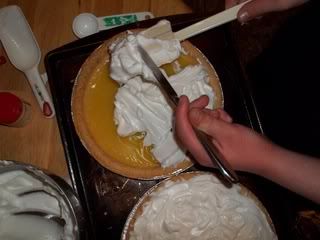 Directions
Pie filling
1. In a saucepan whisk together water, sugar, flour, cornstarch, salt, lemon juice. Make sure any flour or cornstarch lumps are stirred until they dissolve.
2. Cook over medium heat until mixture starts to simmer. Stir constantly.
3. Add butter, stir until melted.
4. Beat egg yolks in a small bowl. Add about ½ cup of hot lemon mixture into eggs and stir well. This tempers the egg yolks so they won't scramble when added to the simmering lemon mixture.
5. Pour tempered egg mixture into pan of simmering lemon mixture. Stir until well mixed.
6. Continue simmering lemon filling about 2 minutes until it thickens, stirring constantly.
7. Pour into cooked pie shell and allow to cool while preparing meringue.
Meringue
1. Place 4 egg whites in mixer and beat at high speed until they start to foam.
2. Add cream of tartar to egg whites then, while continuing to beat, add sugar, 1 tablespoon at a time. Beat about 30 seconds between tablespoonfuls of sugar.
3. Continue to beat meringue until stiff peaks form when beaters are raised from bowl.
4. Spread meringue over pie, starting on lemon pie filling, using rubber spatula. Spread over edges of crust, completely sealing in the lemon pie filling.
5. To form peaks in meringue, using a rubber spatula, touch flat side of spatula on meringue and pull away. Repeat over entire surface of meringue.
6. Place pie in 350°F oven for 15 minutes until high points of meringue are lightly browned.
7. Serve at room temperature or chilled.
In the interest of maintaining some sort of Maternal sanity, I decided we would use bottled lemon juice and ready made pie shells. We'll save pie crust lessons for another week!

Posted by Angi at 08:40 PM | Comments (1)
April 01, 2011
April Fools and 52 Weeks of Pie
It has been so long since I used this blog. Life happened and time passed, and none of it seemed very entertaining or blog worthy.
BUT




TODAY is a NEW DAY!
Speaking of a new day, today is April first, often referred to as April Fool's Day. Last year my dear uncle who never ceases to entertain and amaze me with interesting factoids, explained the origin of April Fool's, as he had read it in one of his papers. The story goes...
In about 45 BC, Julius Caesar created the Julian Calendar. April 1st was the beginning of the year on this calendar. In the late 1500's along came Pope Gregory. He found flaws with the Julian Calendar and made the calendar we use today, know as the Gregorian Calendar. The Gregorian Calendar would change the first day of the year to January 1st. As with all change, some people were agreeable, while others resisted. The ones who resisted and insisted that beginning of their year would remain April 1st, were called the April Fools by those who went along with the change.
I've been looking for a project to do with Khi. He enjoys cooking, so we've chosen to embark on 52 weeks of pie. The plan is we will make a different pie every week for a year. Friday will be pieday. We'll post pictures and recipes on this blog. This time next year we will have either completed a fun long term project, or we could have been the April Fools!!!
Since we just decided this on Wednesday, we didn't have much time to plan. So our first entry will be simple chocolate pudding graham cracker crust pie.
Ingredients:
- 3 boxes of your favorite chocolate pudding mix
- 2 prepared Graham Cracker pie crusts
- whipped cream for topping
Prepare pudding according to instructions on box
Divide pudding into the 2 Graham Cracker crusts
Chill until firm.
Decorate with whipped cream or let everyone put it on their own piece.
Enjoy!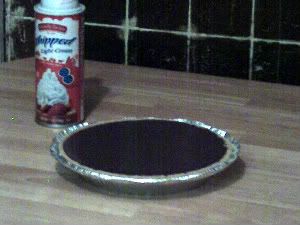 alt="Photobucket">
Posted by Angi at 08:03 PM
April 12, 2010
Happy Birthday Chloe
Happy 4th Birthday to the Most Amazing, Most Beautiful, Funniest, Sweetest Granddaughter God ever made!

I Love You To Bits And Pieces
Posted by Angi at 10:47 AM | Comments (1)
March 02, 2010
Sarah Saves the Day!
I've been knitting a cardigan based on Mediterranean Blues, from the Spring 2000 issue of Knitter's. It is knit from side to side in garter stitch, creating a lovely vertical striping effect. The wool is a blend of lovely hand dyed Red Barn Farm pansy color and some commercial purple wool, all gifts from My Sweet Benny.
I am gauge retarded.
I knit the beginning of my cardigan as per the pattern instructions. When I got to the row where I was supposed to cast off for underarms, I was 3 inches short in width.
Today was the day I thought I would have to frog and find another project. I was quite unhappy about the frogging but am too mathematically challenged to fix the pattern.
Then Along Came Sarah.... (sung in my goofiest voice)
In less than 5 minutes she had measured my knitting, perused the pattern, and drawn me the most perfect schematic ever seen!

I'm going to love this sweater!

I've been remiss in my blog posting. I will be filling in the blank spots in the days to come.
Posted by Angi at 07:03 PM